Compassionate Communication Context and Principles
---
Inspiration Principles & Benefits The Four Step Model
---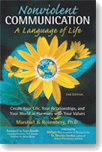 Our teaching is based on the life's work of Dr. Marshall B. Rosenberg, PhD. Marshall's book, Nonviolent Communication; A Language of Life, is the text we work from and recommend to all who are interested in the Compassionate Communication model and consciousness. To jump to the Puddledancer Press page where you can purchase the book online, click on the book at left. Puddledancer Press also carries other books by Marshall, as well as related books and lots of information about NVC.
We have been deeply inspired by Marshall and his work. Both of us have attended workshops with Marshall, including a nine-day intensive residential training, and highly recommend seeing him in person if you get the chance. To view Marshall's schedule and also tons of information on NVC worldwide, visit the website of the national NVC organization, The Center for Nonviolent Communication (CNVC). Marshall's schedule can be found here.
| | |
| --- | --- |
| "All violence is the result of people tricking themselves into believing that their pain derives from other people and that consequently those people deserve to be punished." ~Marshall Rosenberg | |
---
Compassionate Communication, also called Nonviolent Communication (NVC), is a simple and profound shift in thinking and speaking habits. Its purpose is to nurture a quality of connection that supports making life wonderful for each other and in which all needs get met through joyful giving.
Our culture's domination model:
Moralistic judgment—right/wrong, good/bad, blame, "should", "deserve"

External authority (leaders, church, majority, cultural norms)

Motivation by reward & punishment (including praise & criticism)

Thinking in terms of what's wrong with others; "suicidal expression of unmet needs"
Key NVC principles, with practical benefits:
Feelings are caused from the inside, by our needs, thoughts and beliefs. They're merely stimulated from the outside. Every feeling is a gift, calling our attention to our needs. When speaking, take clear responsibility for our own feelings.

Benefit: we can share our feelings deeply without blame, so the other person wants to hear.

Needs are universal and may be satisfied in many ways. They make no reference specific people or actions. When we confuse needs and strategies, we get addicted to our strategies and almost guarantee conflict and dissatisfaction. Postpone problem solving until after solid empathic connection, in which the feelings and (especially) needs of both parties are understood and repeated accurately by the other.

Benefit: we find that needs are never in conflict. A universe of possibilities opens up for meeting all present needs fully. Connection is nurtured and win-win strategies are easily found. No need for domination or sacrifice, including compromise, so goodwill grows and agreements last.

Anger, shame, guilt, and depression are caused by judgment, i.e., life-alienated thinking. "We're playing the game of punitive god", directed outward for anger and inward for the others. Therefore, the first need is always to reconnect to our life-serving needs and feelings, which is an inside job. It often helps to state the judgments clearly.

Benefit: when we do address the stimulus and make a request, we're likely to get connection and a compassionate response.

It's fun to make life wonderful. One of the strongest human needs is contribution to another's well-being. Instead of selflessness or selfishness, NVC teaches "self-fulness"—acting only in ways we are in touch with as meeting our own needs, including our need to contribute to others. "Please don't do anything for me that you cannot do with the joy of a small child feeding a hungry duck." Otherwise I'll pay later.

Benefit: giving is a gift to the giver, so we so don't breed resentment and debt into our relationships.
---
Compassionate Communication Four Step Model
Four Steps

Properties of Each Step

Watch for

Observation (Clarity)

The concrete actions we are observing that are affecting our well-being

Specific, precise, tangible, inarguable, establishes common ground
Evaluation/interpretation, criticism, subjectivity, vagueness, exaggeration (always, never, etc.)

Feelings (Heart)

How we feel in relation to what we are observing

Internal, vulnerable, emotions
Blame, believing our stories, non-feeling words

Needs (Heart)

The needs, values, desires, etc. that are creating our feelings

Universal, life supporting and enriching
Confusion with strategies, attachment to specific actions, people, etc.

Requests (Clarity)

The concrete actions we request in order to enrich our lives (strategies for meeting our needs)

Doable, present, positive, specific
Vague, not doable, negative (don't-able), future, demand, criticism, attachment to yes
The clarity steps enable help; the heart steps inspire help. These steps apply whether speaking or listening and whether one's needs are met or unmet. For example:
When speaking: "When I see/hear/notice ___________________, I feel ____________________ because I am needing/wanting _________________. Would you be willing to __________________?"
When listening: "When you see/hear/notice _______________, do you feel ________________ because you are needing/wanting ___________?" (Sometimes: "Are you wondering if I am willing to _____________?")
---
"Which game do you want to play: Who's Right or Let's Make Life More Wonderful?"
~Marshall Rosenberg, Ph.D.